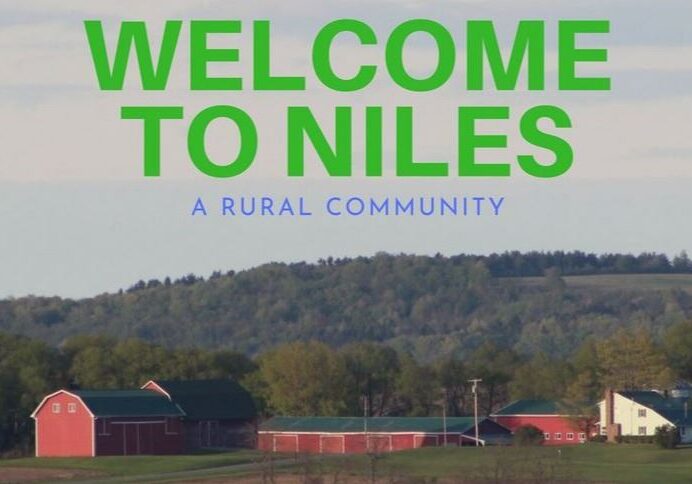 Even before the Revolutionary War began, New York State had been short of money, so to avoid taxation it looked for some other way to encourage enlistment in the military forces. The Continental government had offered land as a bounty for enlistment. So New York attempted to raise two regiments by promising bounties of unappropriated land equal to five times the grant of the federal government, or 500 acres to a private.
Military Tract
On March 20, 1781, legislation was passed by the state which provided for this bounty with a three year enlistment unless discharged sooner. By July 1782, the area known from then on as the Military Tract was set aside. As finally determined, it contained 28 townships, each containing 60,000 acres. The tract was situated in the Finger Lakes area and the townships were named for classical heroes as they were surveyed, mapped and numbered. They were numbered 1 through 26.
Formation of Niles
The original townships turned out to be too large and unwieldy and gradually they were split into two or three smaller towns. On March 20, 1833 our parent Township of Sempronius was so divided, the Town of Niles was formed out of the upper section which included lots numbered 1 to 41, while Moravia and Sempronius contain the other sixty lots. There were exceptions involving the two lakes, Owasco and Skaneateles, between which the Town of Niles lies.
It is interesting to note that, as the original townships were laid out, because of the curve of the lake, parts of lots 5, 12, 13, and 26, of the Township of Scipio, appeared on the eastern edge of the then Township of Sempronius, becoming a part of Niles when it incorporated in 1833. The same is true of the western edge of Niles, where lots 11, 12, 13 and 14 are lost to the Town of Tully in Onondaga County, because of the curve in Skaneateles Lake.
Geography
As described by many historians, the surface of the town is mainly hilly with rolling uplands; the highest are about 700 feet above Owasco Lake. Toward Owasco Lake, the downward slopes are gradual; toward Skaneateles Lake they are more abrupt. Near the center of the town, Dutch Hollow Brook flows north through the hollow formed by the steep hills. Also flowing north, but through the eastern part into Skaneateles Lake, is Bear Swamp Creek.
Important Note
This content is from 'Niles 1833-1983' written by Mable L. Crosby, Town of Niles Historian.